On day twenty one we shoot not with the Red One, but with an HVX-200 to get the 'video look' for the news footage that will be inset on a television.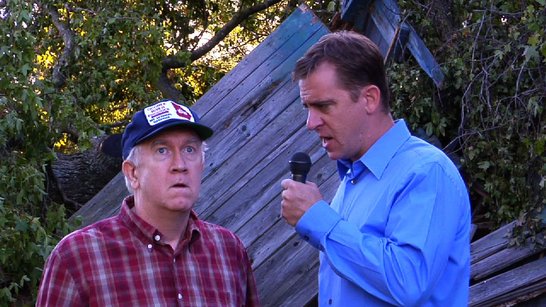 With the completion of day 21, principle photography has wrapped!
Next in the production is to grab all of the scenes that do not involve actors such as the RC War scene, RC Racing footage, green-screen background footage, and a computer overlay or two. Following that the track area will be refurbished in preparation for the flashback scene which will involve Tommy, James, and Nicole.
Independent
weekend
filmmaking has to be one of the toughest forms of filmmaking out there. It is a testament to the human condition that even though you only get to work with each other on a fairly intermittent basis, fast friendships are formed and alliances are created. No doubt that the pressure and frantic pace contribute to this...
I wish to thank everyone involved for humoring me in this project. I truly hope that this film is successful and that it serves as a launching pad for everyone who desires to pursue film making as a career path: cast, crew, and even Cory Paul.

(Writer, Producer, Director, and Key Mouse Wrangler for The Hobby Stop)